Not everyone who lives in Israel is of pasty white European heritage, but you wouldn't know it from the Israeli government's outreach. For reasons only fully understood by the gods and the person trolling me, I was recently subscribed to the newsletter of the Jewish National Fund (JNF), a quasi-governmental organization that seeks to replace brown people in Israel with Jews and trees.
An explicitly racist organization (Israel's second largest property owner, it refuses to rent land to Arabs), it was not surprising to find that JNF's printed propaganda featured almost exclusively smiling white people. On one page, smiling white college kids whose trip to the Holy Land totally rocked. On another page, a smiling white foodie dishing the inside scoop on Israeli cuisine. Here a white person; there a white person; everywhere a white person. The reader at home's takeaway: Go to Israel and you won't have to mix with the coloreds, unless of course you book the 4 day / 3 night Ethnic Immersion tour package.
What's a little weird is that when I tweeted something snarky about the awful lot of white folk in JNF's newsletter, the CEO of JNF, seemingly awful white person Russell Robinson, saw fit to retweet it. Judging by the rest of his tweets — yes, older friends, I too find my generation's language insufferable — it does not appear this was an act of passive aggression, though I probably shouldn't jump to any conclusions. Perhaps he was just distracted by how pasty white I am and hit the wrong button.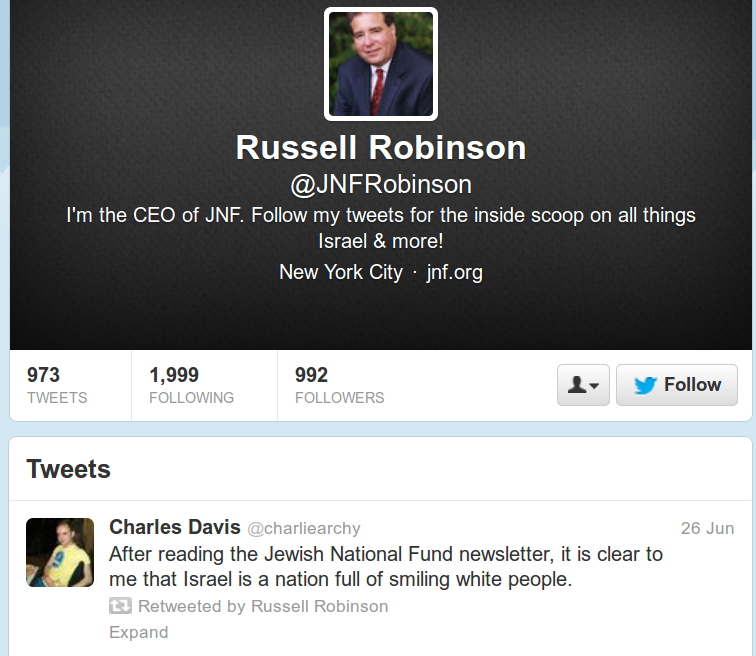 PREVIOUSLY: In 2012, Israel's Interior Minister Eli Yishai said, "Muslims that arrive here do not even believe that this country belongs to us, to the white man."